Monitor how much alcohol you drink - - and reduce it!
drinkingdiary html app enables users to calculate how many units they drink, and record this on a daily basis to see if their drinking is within healthy limits. It provides weekly unit averages by week, month, and year periods so that users can if desired bring down the ammount they consume.
To get started, download app bundle, unzip folder to your desktop and open the contained web page in your favourite browser. Click on any day to enter the number of alcoholic units consumed - the diary will track your totals and averages from there on in.
Existing Users: Please see instructions on importing data from the old site here. Contact details can also be found on this page.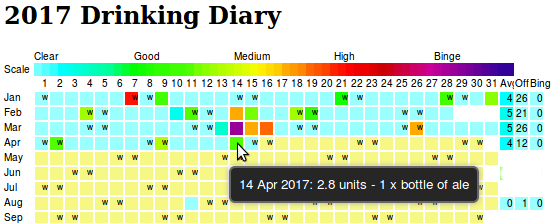 .